Casey Gwinn, Esq.
President
Casey Gwinn Bio
Casey Gwinn is the President and Co-Founder of the Alliance. He is the visionary behind the Family Justice Center Movement, first proposing the concept of the Family Justice Center model in 1989. Casey founded Camp HOPE America in 2003. He is a national expert on domestic violence dynamics, including investigation and prosecution, the handling of non-fatal strangulation cases, and is one of the leading thinkers in the country on the science of hope. Prior to this position, Casey was the elected San Diego City Attorney.
---
Gael Strack, Esq.
Chief Executive Officer
Gael Strack Bio

Gael Strack is the Chief Executive Officer and Co-Founder of the Alliance. Gael is a national expert on domestic violence and strangulation. Prior to this position, Gael was the founding director of the San Diego Family Justice Center, former prosecutor with the San Diego City Attorney's Office, defense attorney and deputy county counsel.
---
Yesenia Aceves
Director of Culture and Creative Services

Yesenia Aceves is the  Alliance's Director of Culture, and is responsible for measurably increasing employee Hope, engagement, and well-being while managing employee development and retention.  In addition, as  Director of Creative Services, Yesenia oversees branding and design for all of the agency's programs and leads Art Heals, a creative initiative within the Alliance. Yesenia first joined the Alliance in 2015 as the Founding Director of the Pathways to HOPE Project, Camp HOPE America's year-round mentorship program.
---
Joe Bianco
Law Enforcement Support Coordinator
Joe has a BA is in Criminal Justice (CJ) from John Jay College of CJ in NYC and an MS in CS from Saint Joseph's University in PA. Previously, Joe was a police officer for 16 years with the NYCPD and SDPD, assigned as a detective to the DV and Child Abuse Unit for 6 years. Joe is recognized as a court expert in non-fatal strangulation cases and DV dynamics. Additionally, he spent a year working for child welfare services for the State of NH. Joe is passionate to help survivors and educating professionals on the dangers of intimate partner violence and strangulation.
---
Jill Bring
Program Assistant
 Jill has over 6 years of advocacy experience and has worked directly with survivors in a variety of settings including the Guilford County FJC, the City of Alexandria DV Program Safe House, and the Alexandria PD. Jill was part of a multidisciplinary team from the Guilford County FJC that attended the Adanced Course on Strangulation Prevention in 2017. She earned her BSW from NCSU and worked with refugees and immigrants before venturing into anti violence work.
---
Susan is the Alliance's Finance Manager. She has 30+ years of accounting and administration experience working for nonprofit and for-profit organizations. Susan graduated from the University of South Florida with a Bachelor of Science Degree in Accounting and a Bachelor of Science Degree in Finance. Susan volunteers her time throughout the year to Feeding Tampa Bay, Metropolitan Ministries, and the Ronald McDonald House.
---
Jessica Kimsey
Events Manager
Jessica Kimsey is the Events Coordinator for the Alliance. She is responsible for coordinating all aspects of the Alliance's annual conference and provides administrative and organizational support for the Alliance's training programs, workshops, and events. Jessica received her Bachelor of Science degree from Champlain College in Hospitality Management and has had extensive experience in all aspects of the hospitality industry. She is excited to bring her experience to a non-profit organization.
---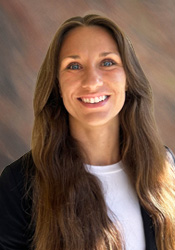 Theresa Raisbeck
Admin Assistant
Theresa Raisbeck is an Administrative Assistant for Alliance for HOPE International. She holds a master's degree in Sport & Performance Psychology and a bachelor's degree in kinesiology. Theresa has five years of experience working within the field of mental health, including working in one on one and group settings with athletes and performers, and managing private therapy practices. She is excited to bring her passions and experiences to the Alliance.
---
Ken Shetter
National Director, Family Justice Center Alliance
Ken Shetter is the National Director of the Family Justice Center Alliance. Ken earned a BS in Education from Baylor University; an MA in Applied Sociology from The American University where he was a Dean's Scholar and a Sociology Department Fellow; as well as a JD from Baylor Law School. In addition to his role as Mayor of Burleson, TX, Ken became the first Executive Director of the Safe City Commission in Tarrant County, which collaborated with dozens of other agencies to build and operate One Safe Place, Forth Worth, the largest Family Justice Center in Texas.
---
Amy Stobbe
Finance Coordinator
Amy is the Finance Coordinator at Alliance for HOPE International.
She enjoys providing office support to all areas of the organization with an emphasis on finance. Amy is honored to be part of the team and looks forward to growing in her role.
---
Montgomery Turner-Little
Program Coordinator
Montgomery Turner-Little is the Program Coordinator for the Family Justice Center Alliance.
Montgomery earned a BS in Health Science Studies from Baylor University and an MPH in Health Promotion and Behavioral Sciences from the University of Texas Health Science Center of Houston where he assisted in research on childhood obesity. Prior to the Alliance, Montgomery was a Population Health Specialist for a mental health organization in Tarrant County.